History
Kerr Pumps Corporation was founded in 1946 to supply the thriving oil & gas industry with dependable, high-performance pumps. In 1996, the product line was diversified to include models and options for a wide array of industrial applications.
Plunger & Piston Pumps
More than 100 Standard Models
5 – 2500 BHP
Up to 1900 US GPM (Gallons Per Minute) / 65,170 BPD
Up to 17,900 PSI (1235 BAR)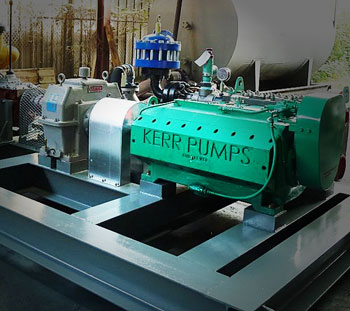 Fluid End Options Include:

Ductile Iron
Aluminum Bronze
Carbon Steel, cast, billet or forged
Forged Stainless Steel
Duplex Stainless Steel
Specialty Metallurgy (Upon Request)

All Forged / Cast Steel Fluid Ends can be Equipped with Flanges (Upon Request)
Genuine Kerr Pump Parts
Kerr parts are specifically manufactured to fit specific pumps.
Optional Equipment
Bolt-on gear reducers
Force feed lubrication
Right or left-hand drive
API-674 specification needs
Flanged fluid ends
Plungers & valves for all services
Skid fabrication & packaging
Applications
| | | |
| --- | --- | --- |
| Horizontal Directional Drilling (HDD) | Mining Applications | Descaling Steel |
| Bentonite Pumps | Municipal Services | Extrusion Operations |
| Salt Water Disposal | Public Transport | Agriculture |
| Water Flooding | Fire Control Services | Construction / Concrete Industry |
| Oil Pipeline Transfer | Nuclear Power Plants | Chemical Industry |
| Sand Fracing | Well Kill Trucks | Food Industry |
| Acid / Alkali / Solvents | Hydraulic Casing Pulling | Iron / Steel / Metal Industry |
| Cement Slurry | Hot Oil Service | Military Service |
| Hydraulic Power Oil | Reverse Osmosis | Ship Building |
| Airport Areas | Self Serve Car Wash Systems | Lumber Industry |
| Beverage Industry | Touchless Car Wash Systems | Polymer Injection |
| Blow Out Preventer (BOP) Pumps | Automatic Car Wash Systems | Research Laboratories |
| Engineering Industry | Hydrostatic Testing | Sewer Cleaning |
| Glass & Ceramic Industry | Hydraulic Presses / Shears | High Pressure Water Jetting |
KERR PUMPS
PLUNGER & PISTON DESIGNS

MODEL

HORSEPOWER

PRESSURE

FLOW

PSIG (BAR)
US GPM (M³/HR)

PLUNGER PUMPS:  5 – 277 Horsepower

KD-1250
6.2
3,310 (228.3)
11.6 (2.6)
KJ-2250
14.2
3,310 (228.3)
26.5 (6.0)
KZ-3150
12.2
3,960 (273)
18.1(4.1)
KM-3250
25.4
3,310 (228.3)
47.4 (10.7)
KM-3250HP
25.4
8,475 (584.5)
18.5 (4.2)
KP-3300
57
3,600 (248.3)
83.2 (18.9)
KP3300HP
57
8,564 (590.6)
20.8 (4.7)
KT-3350
71
1,927 (132.9)
129 (29.3)
KT-3350HP
71
7,709 (531.7)
43.7 (9.9)
KT-3400
79
1927 (132.9)
141 (32.0)
KT-3400HP
79
7,709 (531.7)
48.1 (10.9)
KA-3500
102
1,743 (120.2)
219 (49.7)
KA-3500HP
102
11,525 (794.8)
28 (6.4)
Q5450C
277
1,592 (109.8)
604 (137.2)
Q5450HP
277
4,677 (322.6)
186 (42.2)

PISTON & MUD PUMPS: 15 – 2500 Horsepower

KZ-3150PT
16.7
1,595 (110)
30.9 (7.0)
KM-3250PT
42.7
2,251 (155)
65.8 (14.9)
KM-3300PT
78
1,469 (101)
107.9 (24.5)
KT-3350PT
117
1,311 (90.4)
245.6 (55.8)
KT-3400PT
131
1,311 (90.4)
274 (62.2)
KA-3500PT
172
1,500 (103)
314.2 (71.4)
Q5450PT
333
1,500 (103)
511 (116.0)
T60WS

TWS600S

QWS1000S

QWS2500HD

TWS2500HD

600

600

1000

2500

2500

12,000 (827)

16,832 (1161)

15,000 (1034)

17,905 (1235)

17,905 (1235)

465 (105.6)

558 (126.7)

929 (211)

1896 (431)

1138 (258)